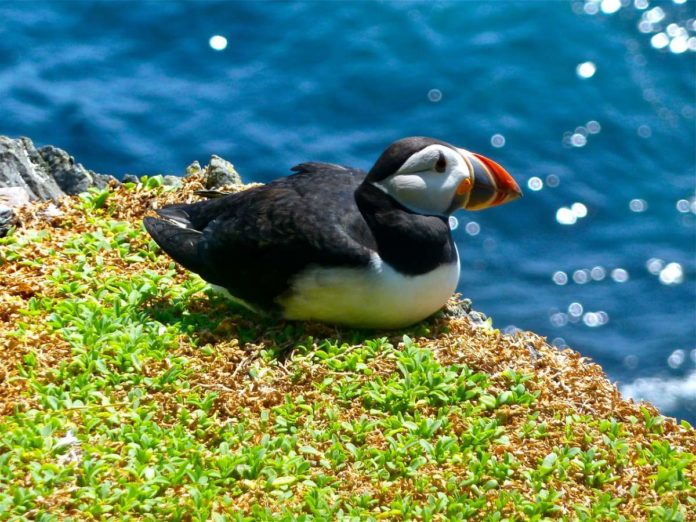 The cliffs are falling silent at the RSPB's new nature reserve at Troup Head following the hustle and bustle of the last few months when tens of thousands of seabirds occupied the cliffs for the summer.
Seabirds including fulmars, gannets, kittiwakes and auks including everybody's favourite, the puffin, have made the cliffs at Troup Head their home for the last 6 months. The birds come to the area to breed, attracted by the safe nesting sites on the cliffs and a local food supply.
Soon however, they will head out into the North Sea and beyond, as RSPB Scotland's Loch of Strathbeg reserve manager, Dominic Funnell, explains:
"A whole host of auks, from razorbills to puffins, have been breeding at Troup Head since April. Auks live on the open sea and only come ashore to breed, so with the breeding season now almost over, the auks will head out into the North Sea, or into the Atlantic, where they spend the winter months."
Birds remaining in the colony include fulmars, herring gulls and for a few more weeks, gannets, for which the area is becoming renowned. Karen Crowe of the Banffshire Coast Tourism Partnership explains why a trip to Troup Head to watch the gannets can be a very worthwhile experience.
"There are only two mainland gannet colonies in the UK and Troup Head is the only one in Scotland.  Gannets are the UK's largest seabird and certainly the most spectacular.  They can be seen diving for fish out at sea from Troup Head and young gannets will be getting ready to take their first steps into the wide watery world. The gannets will also head out to sea soon, generally spending the winter months off the coast of Africa."
Several species of seabirds including Kittiwakes, of which there are several thousands of pairs at Troup Head, have had a hard time in recent years, as Dominic continues:
"Poor fish stocks and bad weather have meant trouble for the kittiwakes, especially in the north and west of Scotland. In Shetland in particular, there has been a decline in sand eels, their preferred food, thought to be a result of both changing sea temperatures and over fishing."
Karen reflects on another of Troup Head's treasures:
"With the auks leaving the cliffs this month and the gannets heading out to sea in September for the winter there remains one very good reason to visit the reserve, namely dolphins and minke whales in the waters below!"
A tricky place to find but worth every effort, the RSPB Troup Head nature reserve is open at all times and is best reached from the B9031, 1.5 miles east of Gardenstown. With dramatic, panoramic views along the Moray Firth and beyond, the site is protected as a Site of Special Scientific Interest and as a Special Protection Area and for seabird enthusiasts, is best visited between April and September.